30+ years of Production Service
Jon began his professional career as a D.P and "one-man band" at FlightSafety International's Center for Instructional Services writing, shooting and editing aviation training videos for aircraft manufacturers and the U.S. military. After almost three years at FlightSafety, He was hired away by AMS Productions to start their production department. Seven years and hundreds of corporate, agency and broadcast shoots later, he left AMS Productions to start Cine-Cermin Productions, Inc.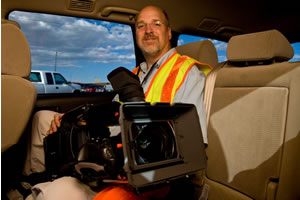 Jon enjoys his career that has afforded him many opportunities to go places, see things and meet interesting people.
He's worked for most broadcast and cable companies, including CBS, Fox News, Fox Sports, ESPN, ESPN2, Showtime, Animal Planet, A & E, the History Channel, the Discovery Channel, the Learning Channel, PBS, Fine Living Network, HGTV, the Travel Channel and SAT-1 (German TV).
He's shot from bridges, cranes, trains, cars, helicopters, boats, military vehicles, go carts, an elephant, small planes, the wing of an F-16 (it was not moving) and a NASCAR car (it was moving at 160 mph).
Specialty experience includes using the Stanton Jimmy Jib (he was until recently an owner/operator), the Schwem Gyrozoom (an owner/operator) for shooting out of helicopters, boats, or other moving vehicles, aerial work with a Tyler Nose Mount, Green/blue screen work, miniature shooting with the Innovision Probe Lens, and rigging vehicle mounts.
He's had the opportunity to record many interesting things, including how Skittles and Snickers Bars (Mars Company) are made, how a heart defibrilator works (American Heart Association), how a micro-chip is made (from sand to the finished chip for Texas Instruments), how to make most Pizza Hut Pizzas (Yum Brands), how to select a correct-fitting (Olga) bra and how to shoot a Stinger Missile (U.S. Army Air Defense).
One of his major subject-matter specialties is shooting surgeries. He's taped surgeries for all kinds of medical implants, from toe, ankle and knee joints (Osteomed, DePuy,) to urinary, cardio, neuro, brain and gastric stimulators (Medtronic). He can't count the number of cleft-lip surgeries he's covered in Third World Countries (Belize, Liberia, India, Laos, Ecuador, Haiti and the Dominican Republic). In his history he's also seen two children "code" (cardiac arrest) on the operating room table. Both were revived; sadly, only one is still alive and well today…
Jon's travels have taken him to all 50 U.S. States and 16 foreign countries. Memorable locations include the World Trade Center Ground Zero, the Oklahoma Federal Building a day after it's attack, an orphanage in Damoh, India and the Phoebe Christian Hospital in central Liberia, Africa. He's been on stage with Toby Keith and Ted Nugent with the USO in Kosovo, Italy and Germany, and was invited to the stage, along with his wife and one-year old daughter, Hayley, for Ross Perot's presidential race concession speech in 1996 (Hayley was in commercials he shot for Perot's 1996 campaign.)
Jon has shot spots for U.S Presidential candidates, State Governors, and U.S. Congressional candidates. He's also taped countless interviews of sports figures & legends, recording artists & movie stars, from the very hot folks on top (Nicolas Cage, Faith Hill, Toby Keith, etc.) to the has-beens (Sly Stalone, Arnold Swartznegger, Garth Brooks, etc.).
Inspiring stories he's covered include survivor stories from the 9/11 Trade Center attack one month and then a year after the attack, WWII Army Air Corps veteran's stories, and the many shots of 3rd World moms as they received their children from the Christian Missionary doctors after their cleft lip repair. These shoots are what make his job relevant & meaningful. It has been a great 28 years, and he looks forward to whatever the future holds.
Jon has won numerous awards over his career and has earned five Telly Awards for his camera work since 2004.
For a brief glimpse of Jon's past 28 years of professional photography, feel free to browse the CCPI scrapbook linked to this page.

Glide-Cam property tours can offer you a variety of video options to market your real estate properties, from aerial photography to still photography, to video pans of each room, to glide-cam walk through tours, to full blown news style video documentatries.
Copyright 2018 Cine-Cermin Productions and Glide-Cam Property Tours