Cine-Cermin Productions, Inc. is a professional media production company with over 30 years of media production experience including motion picture film, video and HD for broadcast, agency, corporate and government clients. Browse our site, and we hope you'll agree that
CCPI is THE creative solution for your visual message!
Glide-Cam Property Tours-
Your best Solution for on-line property walk-through video
 These High Definition video tours include both aerial video of the exterior of the property as well as gyroscopically stabilized walk-through video of the property interiors.
30+ years of experience shooting videos for agency, corporate and broadcast entities. He is an FAA licensed drone pilot and his business is incorporated and insured, including drone insurance.
Pricing for walk-through tours start at just $150 plus applicable taxes and mileage. Long format property overview videos are also available; call for pricing.
In the old days, most media production companies worked off of a rate card, and often times these rates were listed on the website, too. Because clients, locations and events differ, we now bid out by the project. This allows us to be more competitive in different markets.
We can match just about any production company or freelance shooter's rates for any kind of video production, our 30+ years of production experience allows us to efficiently finish projects that less experienced companies and shooters can do. Inquire below on the package that interests your company.

We offer 3 Separate Packages shot with our broadcast quality camera systems
CCPI's Broadcast quality Equipment includes:
Two full size, full raster HD cameras with Broadcast quality HD Zoom lenses
Gyroscopical Stabilized Osmo Camera System
Drone equipment with an HD Camera

CCPI's Shooting Package are:
HD
BetaSP
DVCam
30+ Years of Experience as Director of Photography
Over the past thirty years, D.P./Cinematographer Jon Cermin has amassed a very diverse range of shooting experience. Clients include agency, broadcast, corporate and Government entities. Some of his shooting specialties include: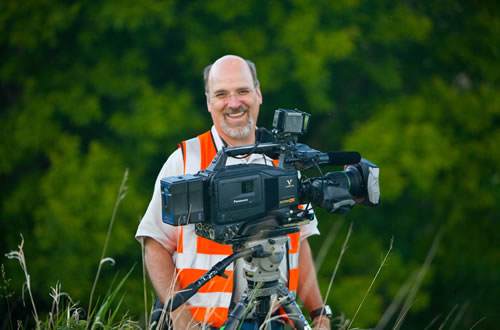 CCPI has a variety of Specialty Gear to shoot your broadcast quality video.
Drones
Aerial Photography
Jon holds an FAA issued Private Pilot's license with sUAV (drone) endorsement, so he is fully-licensed to operate a drone for commercial purposes. CCPI also carries Drone insurance.
Portable Green Screen
With 2 C-Stands
Heavy gyrozoom
This is a standard definition (4×3 format) 300mm to 600mm gyroscopically stabilized lens for shooting from a moving platform such as a car, boat or aircraft.
Jimmy Jib Extreme Boom Arm
Portable boom, extendable from 6' to 30 feet in 6 foot increments. Jon was a jib operator and owner for 23 years until he recently sold his jib to another operator in the Twin Cities market. He still operates on occasion and has access to the jib.